We are specialist installers of wet rooms with an abundance of experience in providing a total solution in all project environments.
Wet rooms provide a modern solution to showering. They are completely open and the shower floor is flush with the rest of the bathroom, giving a seamless walkthrough. They are ideal for people looking for a sleek bathroom, especially in compact spaces. Because wet rooms are set on one level, they make a good solution for elderly people or those with restricted movement, allowing them to be independent when washing. They are also a great use of space and can be fitted in any shaped room, big or small. It can make smaller bathrooms appear bigger due to the seamless walkthrough and not having big pieces such as baths or step-in shower trays.
Wet rooms are easy to maintain and clean due to there being less fixtures compared to a regular bathroom. That means the upkeep of the bathroom is easier and makes for a hygienic option.
Wet rooms can be fitted with a whole manor of different products to make it your own. You can find plenty of inspiration on our portfolio page. Looking at different wet rooms can help you choose a style that is best for you. For example, would you have a fully enclosed wet room, a wet room panel or an open wet room? Would you have a shower head fitted to the wall or ceiling, have a detachable hand held one or both? With all of this to consider, we can help you in making these decisions and provide options for how your new space will look.
Accessible wet rooms are very popular. They provide independence to people who may struggle getting in and out of traditional baths where you have to take a big step to get it. They can also allow wheelchair users to access the bathroom alone by wheeling right into the shower due to the one level flooring.
View our Wetroom Projects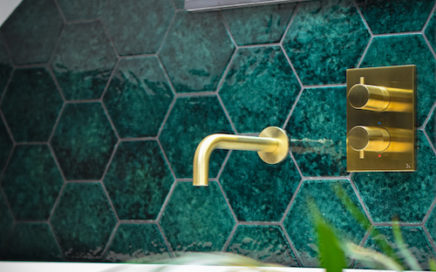 Project description. This modern attic wet-room is the real focal point to a loft conversion with challenging ceiling lines. However, Opus bathrooms relish a challenge. This Brighton wet-room features bespoke linear wall drain, custom built glass backed niches and clever lighting schemes. The crackle glaze green hexagon wall tiles coupled up with the metallic brown…