Shower and bath niches are a practical complement to today's modern bathrooms, they offer practical storage solutions for your bottles products like shampoo or sponges etc. With a shower niche, you can say goodbye to cluttered shower trays, window sills or the corner of the bathtub.
If they are installed correctly, niches or 'shower/bath shelves' aren't just unobtrusive, they also compliment the design of your bathroom and give you a great focal point within your showering area.
Opus Bathrooms have designed and constructed many shower niches or 'shower/bath shelves' over the years. Here are 7 design options to consider whilst creating your beautiful bathroom niche.
Match the same tile inside the niche, as you have on the walls
Niches don't always have to stand out. If you want them to be discreet then you must use the same tile throughout, to create a seamless transition between the shelf and the rest of the wall, thus creating contemporary, uninterrupted lines.
Enhance the niche with contrasting tiles or mosaics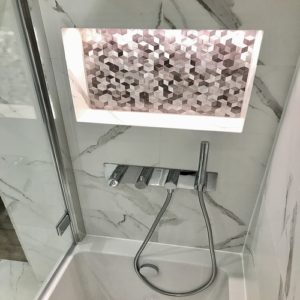 One of the great things about shower niches is that you can be creative and play around with contrasting tiles or mosaics. In this picture, Opus combined these luxurious metal, hexagon mosaics from The Original Tile Company with a timeless Calacatta marble tile to achieve this impressive result.
Full width wall niches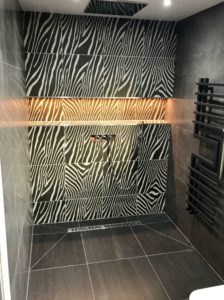 If you desire more space and have the facility too, then we recommend to construct the niche as big as you want. Maximise your wall to create more storage while also giving you the perception of depth and a bigger showering area, with that little extra oh'la'al…
Illuminating the niche with LED's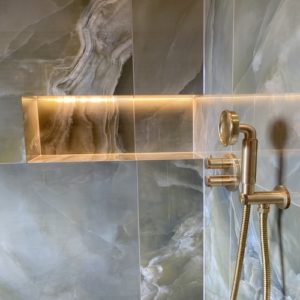 A great way to make your niche a real focal point is to illuminate it. By installing a waterproof LED strip at the top of the niche, you'll create a beautiful, calming effect that will add instant impact and that 'wow' factor so many desire.
Adding mood lighting can also serve a practical purpose too! Late at night, "when nature calls", and you want some light but don't want to be woken by the main bathroom lighting, especially practical for little ones.  Or, whilst soaking in the bath of an evening, you may require a softer, less bright light than the main bathroom lights.
A great lighting scheme can be one of the best ways to create a relaxing environment.
Mitred tiled niches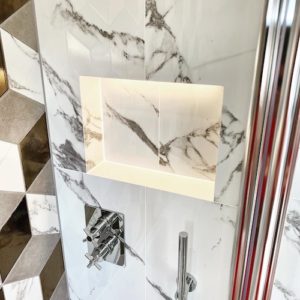 It's no secret that we love mitres. Mitres create a minimal profile that allows your tile to take centre stage, or your niche on this occasion, and without the distraction of a tile trim. The result is a sleek, designer look that is synonymous with luxury. A niche that has the tiles mitred on the external corners are the finishing details that elevate your bathroom project to the next level.
As you can see in this picture, if your chosen bathroom tile has a type of pattern, veining or shading detail, the mitred tile should be continuous to create a wrap around look, adding that bespoke finish.
Bespoke stone ledges
Another design consideration, and if the budget permits, is adding a stone sill to the bottom section of the niche. This can be made from quartz, solid surface or natural stones. Adding this countertop doesn't just instantly add to the feel of a luxury bathroom, it provides a practical aspect too. This feature can minimise the ingress of water that would naturally enter through a traditional tiled grout line, and in turn potentially discolouring the grout.
This option can give great versatility through different finishes, contrasts and materials, giving the end user a bespoke niche that one would associate with a high end bathroom.
Placing the shower niche symmetrically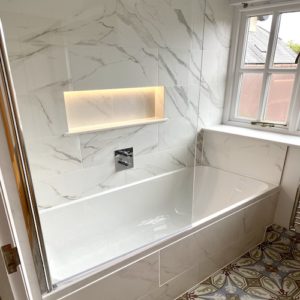 A space that is well proportioned, can be pleasing to the eye, as can a product or tile that has been centred symmetrically. With this in mind, the bathroom installer should consider constructing the niche to the geometry of the chosen tile, or parallel between two tiles, which will minimise the cuts to the reveals of the niche.
For example, if you're installing a 600x600mm porcelain tile to your shower walls, make your niche the same size and place the niche to where your tile would be. This design can make a bathroom flow better and give your design thought and purpose.
Often overlooked, well planned shower niches can really be a showstopper in any bathroom environment.
#teamopus on your next bathroom project
Happy niche building!