Hello and Welcome to the Opus Bathrooms blog. We're looking forward to using this platform to share tips of the trade and update you on some of our most exciting projects. Firstly, we'd like to take this opportunity to introduce you to the faces behind Opus Bathrooms.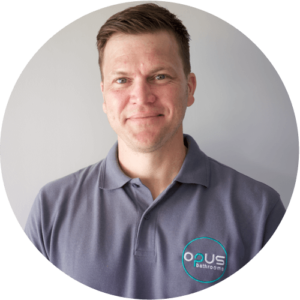 Paul
Hi, I'm Paul, I first met Elliott way back when, as fresh-faced college students studying Graphic Design and Communication at Northbrook College in Worthing. After qualifying from college, I held a variety of different jobs from paint sprayer in car body repair shops before moving onwards and upwards to heading the smart repair department at BMW in Gatwick.
I decided to see some of the World in 2003 and embarked upon a backpacking adventure with my now wife, Hannah, just over a year later, after some incredible experiences, we found ourselves back in Blighty and focussed on building a career for myself and finding a place for us to call home.
I found myself working in the film and television industry and was lucky enough to work on various shows such as Scrapheap Challenge, Shipwrecked and even The Davinci Code. This was all great fun and a particularly special time in my life but felt I wanted to carve a business for myself and settle down in Sussex to buy a home and start a family.
I decided to train for a career in plumbing and heating and completed my City and Guilds level 2 & 3 in plumbing and heating as well as my G3 certificate for installation of unvented hot water systems.
Since then, I have worked with some incredible people and companies gaining invaluable experience along the way, one standout company for me was Sussex Solar where Andy (owner) guided me through the world of renewables and eco-friendly installations. I decided to start my own business to specialise in bathrooms as I love the design aspect and the skillsets needed to create an exceptional bathroom, coupled with my project management skills, my company ran successfully for over eight years.
Then I crossed paths with my old pal Elliott, and the rest is history; Opus bathrooms were born! We both share a passion for quality workmanship and a strong customer service ethos; I knew we could build a successful business together with these in mind.
With Elliott's extensive tiling and construction background and my plumbing, heating and renewables experience, we're a perfect fit. So here we are, slightly older, podgier and with families in tow.
I now reside in lovely Horsham with my wife Hannah, twins Phoebe and Finley and Beagle Dexter. In my spare time, I love playing golf, going mountain biking and camping with the family.
I'm really looking forward to meeting new customers and helping them achieve their bathroom goals.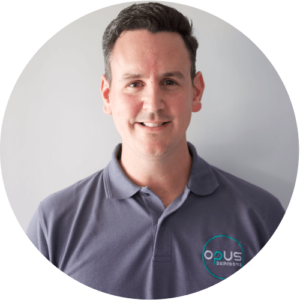 Elliott
After leaving college and deciding not to pursue a career as a graphic designer, I started my working life in a semi-skilled job. I worked in residential homes installing cavity wall and loft insulation, wall tie replacement and re-pointing brickwork.
Although this wasn't the perfect role for me, it steered me in the right direction, and after five years of hard saving, determination and courage, I quit my job to pursue a trade in the construction industry.
I found a training centre in Ford, West Sussex that offered fast track courses in plumbing, wall and floor tiling and plastering. Considering myself to be relatively artistic and having a flair for design, I decided that a path in the wall and floor tiling would be best suited to me as it's quite creative. I also thought this trade could give me a real sense of real achievement and job satisfaction from creating unique projects for my customers.
After passing that course, I decided to take the plumbing one too, adding to my skill set. After completing these courses, I had all the experience I needed to start a business. I founded a wall and floor tiling company called Flawless Tiling and enjoyed many successful years. I had a team of fitters working on high-end properties in London and home areas in and around Brighton.
In 2015, I redeveloped my business and became a successful bathroom installation company, offering my clients a fully managed installation package, unrivalled by others on the market. I managed this business until I rekindled my relationship with Paul. We soon realised we both had the same job and shared a love of design, fine details and the same working ethos (which was quite refreshing as I've never felt that connection with anyone else in our trade).
After two years of working alongside each other and discussing the 'what ifs, we decided to launch a new joint venture… and Opus Bathrooms was born!
I'm married to my gorgeous wife that gave me two beautiful daughters. We live in our renovated Victorian house in windy Brighton, East Sussex. We have a crazy pug dog called Bruce, who keeps us on our toes when he's not fast asleep on the sofa. I used to be an avid bedroom DJ and played funky house in some of the clubs in Brighton in the late noughties. Nowadays, I'm older and wiser, but I still love house music. I have a keen interest in motorsport and rugby, and look forward to getting into some golf in the near future.
We both wanted to use our wide variety of skills and experience while also being able to work on projects from concept to completion. We wanted to provide a service that took all the stress out of bathroom refitting and allowed our customers to enjoy the process, rather than feel overwhelmed by the choices and challenges.
This is just the beginning for Opus Bathrooms and we can't wait to share our unique projects and insights into home trends with you in the future.
If you're looking for a stylish modern bathroom to suit your budget contact us now.